Colorado Energy Analysts
What do we do? We Can Help You Save Money - Almost Instantly!
Your home is typically the largest single investment that you will make.  Everyday you get into your car to go to work.  You know how many miles per gallon you get in your car and how often you need to fill the tank and how much it costs every time.  Do you know how many miles per gallon your house gets?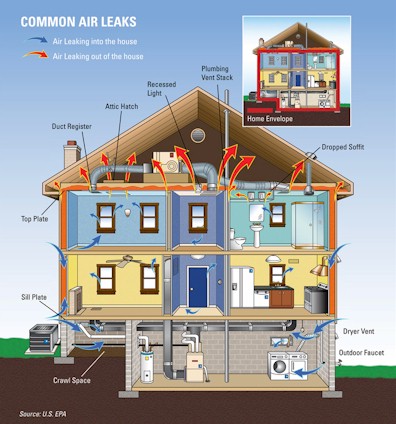 The cost of owning a home is more than just the house payment (PITI) it is also maintenance costs and energy (Utility Bill) costs.  The Colorado Energy Analysts home energy services offer a wide variety of alternatives so you can learn more about the performance of your house, the related costs and the ultimate impact on your utility bills.  Let us help you better understand your house and begin to control some of the utility and maintenance costs while making you home more comfortable at the same time.
Your house is made up of several systems, like pieces of a puzzle; Structural (Foundation, walls roof etc.), Light and Ventillatino (windows, doors and fans), Heating-Ventillating-Air Conditioning, HVAC (furnace, AC unit, make-up air, humidification, etc.), Water services (toilets, sinks, showers, etc.), Interior Finishes (Flooring, cabinets, wall finishes, etc.) Electrical systems (Appliances, switches, plugs TV's, etc)  All of these systems work together so your house comes together like a puzzle.  If one of the pieces is not properly inplace the total picture gets blurred.  The better you understand how the pieces of the puzzle fit together,  the better the house can perform.
Our team has national certifications by BPI - Building Performance Institute, RESNET - Residential Energy Services Network, HERS Rater, US Department of Energy - Energy Star Partner, EPA - US Environmental Protection Agency, Certified Lead RRP Renovators, Certilfied Green Professional, CGP, Certified Graduate Builder, CGB, Certified Aging in Place Specialits, CAPS by the National Association of Homebuilders. 
Our services range from a short one hour survey to a multi-hour complete performance analysis.  They can start with the  Do-it-Yourself review, Home Energy Survey, DOE Home Score, BPI Energy Assessment, Advanced BPI Assessment to a complete RESNET analysis and HERS Rating.
Pricing starts at $99 for a simple Home Energy Survey and adjust so you can choose the level of service you want based upon your objectives.  Visit our services center for a complete list of services and their pricing structure.
The Department of Energy has a great video on a Home Energy Assessment.  Take a moment to view this video to better understand how things come together.
A home Energy Assessment is critical to increasing the performance of your home.  Whether an existing structure or one in the design stage.  The energy efficiency factor is one that will stay with the house and impact years of utility bills.
Colorado Energy Analysts is a divison of Scott Homes, Ltd., Designers and Builders, a Certified Green Professional, CGP, Certified Graduate Builder, CGB, Certified Aging in Place Specialist, CAPS and a Certified Lead RRP contractor.  We build Custom Homes, Semi-Custom Homes and Remodel homes.  We have been in the Pikes Peak Region since the mid 1980's and are committed to Energy Efficient and Sustainable designs and construction.  Visit us at Scott Homes, Ltd. to learn more.