Combustion Safety Testing
Combustion Safety Testing and Mechanical Efficiency
When there is complete combustion of a product the only products remaining are carbon dioxide and water.  If an appliance, such as a water heater or furnace, is running efficiently it will produce inordinate amounts of carbon dioxide and oxygen.  The temperature of the exhaust gas also tells us a great deal of the efficiency if the mechanical systems.  If the air is too hot, it is wasting energy, if its too cold it is probably producing acidic condensation in your vents and chimney which can cause serious problems.
We all know the impacts of improper combustion, carbon monoxide.  This colorless and odorless gas can make us sick and even kill.  The safety of your family is important and a CO detector should be located within 15 feet of any room used for sleeping or in accordance with local building safety codes.  They should be plugged into an outlet and have a battery backup as well.  I like the ones that sound an alarm when they become unplugged to alert you to it's removal.
Colorado Energy Analysts auditors use state of the art flue-gas analyzers to test the gas and temperature emissions of your combustion gas appliances.  This testing will help us identify the problems and determine the repairs of the existing equipment of identify potential replacement needs and the resulting energy savings.
We perform gas leak detection, efficiency testing and zone/draft pressure tests on any atmospherically drafting furnaces or appliances.  Typically, these are natural gas or propane.  We also test for carbon monoxide in flue exhaust and ambient air, look for exhaust spillage in home water heaters and check the furnace for cracked heat exchanger's.
Jon Howes
Professionally Certified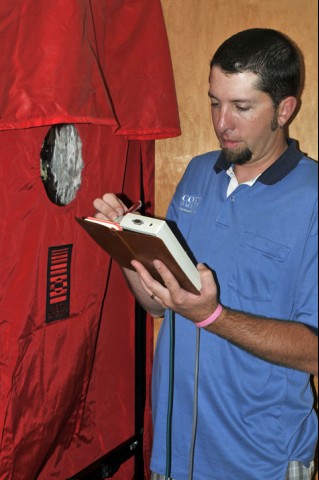 BPI Certified Building Analysts
RESNET Certified HERS Rater

RRP - Certified Lead Paint Renovator
Colorado Energy Analysts
Certified Energy Rater

Scott Homes, Ltd., Designers & Builders
Construction Superintendent